Today, PV is becoming independent from dissemination led by both the Ministry of Economy, Trade and Industry (METI) and the PV industry. PV is involving other ministries and agencies, municipalities, installers, conventional energy industry, utilization and application industry, as well as financial institutes, and it is expected to show a significant growth from "an energy system" to "a social system" on a long time basis. At the time of writing this article, the cumulative PV installed capacity in Japan is 55 GW level, and the installation target of 64 GW by 2030 is expected to be achieved earlier by 10 years ahead of schedule. In the future, Japan should set a more aggressive and brighter target the possibility of going beyond the target beyond 64 GW, and aim for an even bigger and brighter target.
In February 2018, RTS Corporation has made a recommendation called "PV150" on a new PV installation target of 150 GW by 2030. Consequently, we would like to propose the action plan to achieve PV150 (PV150 Action Plan). PV150 should be regarded as a realistic target, and it is time to challenge realizing "PV to bear responsibility as a mainstream power source." At the same time, issues that have become apparent due to the rapid increase of PV installation after the start of the FIT program need to be solved, and there remain many issues to be solved from various perspectives such as support schemes, industrial structure, industrial competitiveness, technology development, power utilization, social environment, etc.
In this proposal, eight key action plans were proposed as efforts to overcome these issues and realize PV150. Based on the assumption that the efforts by industrial side, policy side and installation side should be united, as shown in Figure 1, the proposal consists of the following eight action items as follows: 1) economic rationality, 2) proactive actions by the PV industry, 3) new business models, 4) technological development, 5) deployment of measures, 6) national target and incentives, 7) power business environment and 8) approaches from the installation/ utilization and application side.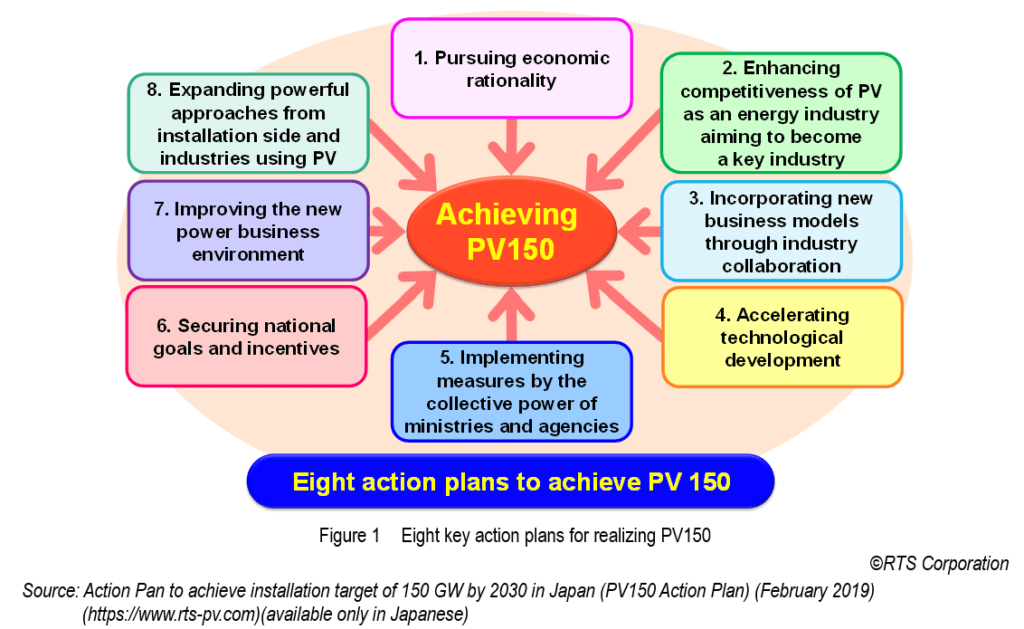 The parties concerned in these actions are, supplier industry providing PV cells, modules, systems and related services, technological development sector working to innovate technological standards of these products and software, the national government providing the utilization environment that is consistent with the national target, and electric grid management/ operation sectors. Furthermore, the demand industry that provide platforms, etc. for effective utilization of PV electricity by standing in the consumer side, local communities that secure local production and local consumption of electricity as well as environmental conservation while supporting PV installation by residents and companies, are also involved. These parties concerned should aim for the same target, and work together in full power for the realization of PV150.
Through the efforts to install 150 GW, not only will PV be able to provide 150 TWh/year of electricity which accounts for about 15 % of Japan's total electricity demand, but also to promote energy supply and demand structure transition, and lead the world by establishing a decarbonized society. In addition, a stable market with about 10 GW/kW scale will be established, international competitiveness of the PV industry will be enhanced, and it will contribute to acquiring the overseas market. As shown in Table 1, a new foundation regarding PV will be laid out by overcoming issues to realize PV150, and it will lead to a dramatic development on and after 2030.
So far, no discussions on the revision of the energy mix for 2030 have been made since the current FIT Act is planned to be drastically revised by the end of FY 2020. However, as stated above, the installation target of 64 GW by 2030 is expected to be achieved by the beginning of 2020. Therefore, the PV industry should not wait for discussions by the country, but also set a target with great ambitions that will require independent efforts. PV has been dependent on the FIT program financed by the citizens. From now on, PV should become an "energy asset" that can be passed on to the next generation, and move on to the next stage of new and independent dissemination by working together with the citizens and large-scale electricity consumers.