The Ministry of Economy, Trade and Industry (METI) and the Ministry of the Environment (MoE) both set forth strong measures towards full scale dissemination of renewable energy in the budget request for FY 2021, such as making renewable energy a mainstream power source at an early date, maximum introduction, creation of a renewable energy-based economic society, etc. Both ministries stand in a wide perspective from each of their standpoints in terms of technology development, installation support, regional support, finance, CO2 emission reduction, and support of developing countries. Dissemination of renewable energy is expected to be further strengthened hereafter.
PV dissemination in Japan has greatly progressed with the start of the Feed-in Tariff (FIT) program from July 2012, and it is estimated that the cumulative PV installed capacity in FY 2019 reached 65 GW (DC based, the same is applied hereinafter). PV has so far developed with an industrial structure based on the annual installed capacity of mainly installation of ground-mounted PV systems aiming for gross power sales. However, in the 2020s, development of PV is expected to be supported by the following three arrows, 1) PV market that leads expansion of installation, 2) Players that are the driving force of dissemination, 3) New and growing business areas, as shown in Figure 1.
In the PV market, the path for new market development is open, including rooftop type PV systems for self-consumption integrated with supply and demand, PV systems on farmland (agro PV) and floating PV systems, etc. On the other hand, the player groups that support these markets will be multilayered by the government side, supply side, demand side, finance side, while these groups cooperate to strengthen the framework for expansion of dissemination. Furthermore, in the business areas, in addition to newly established markets (flow), business deployment such as O&M, repowering, sales & aggregation of PV power plants, etc. in the existing PV market (stock) where cumulative 60 GW has so far been installed, as well as deployment of the electricity business and the service business related to electricity generated by PV that covers both existing power plants and newly built powers plants will start, and the industrial structure will start moving towards making PV a mainstream power source.
Considering the above mentioned three arrows that support PV development and various measures as well as technology development aiming towards making PV a mainstream power source, in addition to assuming that the PV installation cost will decrease to 100 Yen/W (94.8 cent/W) by 2030 reflecting the international price, the future PV installed capacity is estimated to reach 100 GW level by 2025 at latest, and the cumulative installed capacity for FY 2030 is estimated to develop to 133 GW to 165 GW as shown in Figure 2.
Under the BAU scenario in which the installation environment and technology development progress as the extension of the current situation, the cumulative installed capacity is forecast to remain at 133 GW in FY 2030.
Meanwhile, under the Accelerated scenario (accelerated installation and technology development) in which policy deployment is conducted with full efforts by ministries and agencies while technology development is also accelerated to make PV a mainstream power source, installation by individuals and industries, etc. will start in full scale while new fields such as agroPV and FPV will expand in and after FY 2025, and the initial markets of the next generation new fields such as EV charge, hydrogen production, wall-mounted PV system, etc. will emerge. Under this scenario, the cumulative installed capacity is estimated to grow to 165 GW.
Today, the importance of PV as one of the key technologies for decarbonization responding to global warming is increasing, and a significant support from the political side is expected. The PV industry today, is in a situation of being dominated by Chinese companies, etc. in the field of PV module supply. However, on the utilization side, PV installation is shifting from only a generation business, and installation that match the utilization environment such as power demand and industrial structure is becoming important. The PV industry is at the stage of aiming towards creation of a new industry corresponding to such demands. Japan shall speed up in making PV a mainstream power source, and not fall behind in the energy transition that is progressing in the world.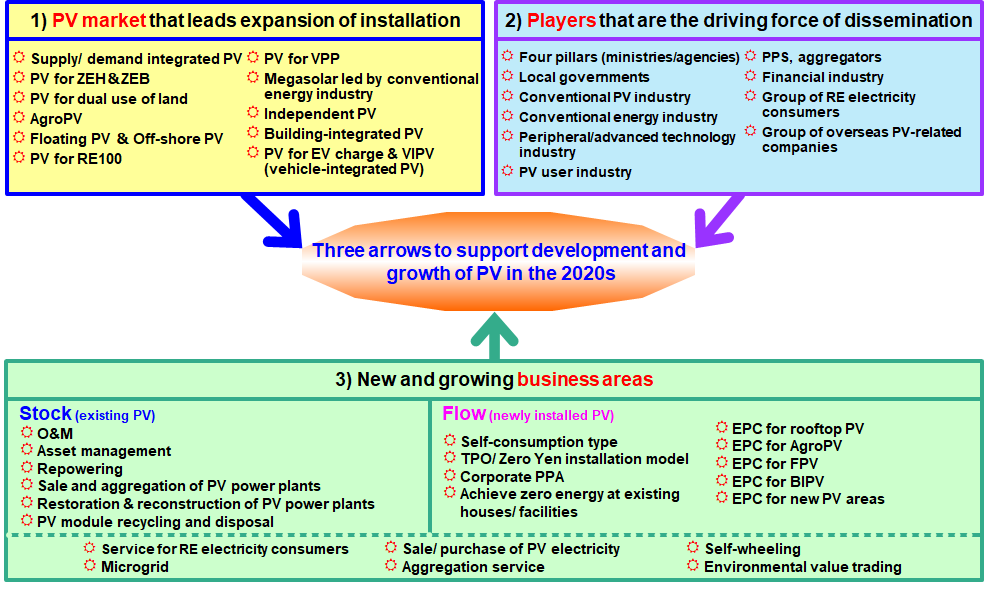 ©RTS Corporation
Figure 1  Three arrows to support development and growth of PV in the 2020s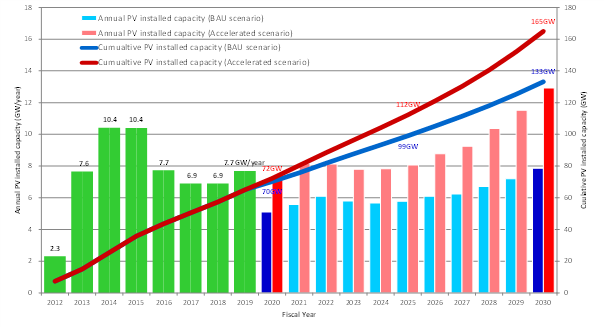 ©RTS Corporation
Figure 2  Forecast of annual and cumulative PV installed capacity in Japan toward FY 2030
(DC-based, BAU scenario and Accelerated scenario) (as of September 2020)