Prime Minister Yoshihide Suga made his first Policy Speech at the 203rd extraordinary session of the Diet and declared that Japan will achieve "net zero greenhouse gas emissions by 2050," aiming to achieve a decarbonized society. Hereafter, Japan will aim to realize a carbon neutral green society through a virtuous cycle of economy and environment as the pillar of the growth strategy.
Prime Minister Suga raised specific technologies of the next generation PV cells and modules as well as carbon recycle technology, etc. and expressed that groundbreaking innovation will become the key and green investment through regulatory reform will be promoted. Previously, the 2050 greenhouse gas reduction target in Japan was 80 % reduction, however, this time, it was declared to aim for 100 % reduction, the same standard as that of Europe. To realize this, all the ministries and agencies shall fully mobilize policy measures and the industry, government and academia shall make full-fledged efforts.
In response to Prime Minister's declaration, Hiroshi Kajiyama, Minister of Economy, Trade and Industry (METI) announced a plan to formulate the carbon neutral action plan for 2050 by the end of 2020. METI started the revision of the Strategic Energy Plan towards formulation of the "6th Strategic Energy Plan" and a new scenario will be drawn aiming to realize the new national target "Zero by 2050".
The role of renewable energy as a mainstream power source increased more than ever since the reduction target for greenhouse gas emissions was increased to 100 %. The renewable energy installation speed and capacity at this point are not enough to achieve the 2050 target, and further acceleration and expansion in capacity of renewable energy installation will be necessary.
Compound deployment of policies by related ministries and agencies is necessary for full-scale mobilization of policies aiming for expansion of renewable energy installation as shown in Figure 1. It is necessary for METI, the Ministry of the Environment (MoE), the Ministry of Agriculture and Forestry (MAFF), the Ministry of Land, Infrastructure, Transport and Tourism (MLIT), etc. to deploy policies under each of their jurisdictions, as well as government offices back up each other in the boundary areas such as local governments leading local production and local consumption as a part of regional revitalization measures.
Especially for PV, the future deployment by the two ministries of METI and MoE from the dissemination policy side, and the two ministries of MAFF and MLIT from the utilization promotion side hold an important key. These efforts through collaboration among the government agencies can secure a powerful driving force for renewable energy dissemination, and at the same time, lead to expressing the nation's intention for the establishment of a renewable energy-oriented country.
Meanwhile, efforts by the PV industry will become further important and it will be necessary for PV to play the three great roles as shown in Figure 2. The first one is the evolution of PV system itself. It is important to penetrate the international price, as well as promote further cost reduction and improvement of performance of PV systems including storage batteries, while aiming to expand functions through progressing integration with advanced technology such as IT, etc. Utilization areas of PV systems will be greatly expanded through these efforts.
The second one is stimulus and creation of demand through change of actions by industries. Penetration of business models that cover the initial investment for consumers and support from the financial industry will reduce necessary funds for consumers and decrease the financial barriers at the time of system installation.
The third one is increase of demand through change of awareness and actions by consumers. Not only shall consumers themselves actively install PV systems in their companies' facilities but it is also necessary to seek for renewable energy power and make renewable energy trade active.
The International Energy Agency (IEA) published an annual report showing the future energy outlook titled "World Energy Outlook 2020" in October 2020. In the annual report, the global cumulative PV installed capacity in 2030 is predicted to expand to 2019 GW under the Stated Policies Scenario (STEPS) and 3125 GW under the Sustainable Development Scenario (SDS). PV is positioned as the "KING" of enhancing power supply source in the 2020s.
In Japan, the national target was set as "2050 carbon-neutral declaration" by Prime Minister Suga and it is expected that the trend for decarbonization in the Japanese industries will be accelerated and investment in renewable energy as well as demand for electricity generated by renewable energy will further increase.
The PV industry shall quickly overcome various issues that PV is currently facing at an early date while deepening cooperation with the government and aim to become "KING" of power supply source. PV shall rush the transition from "PV that relies on the government" to "PV that is relied by consumers."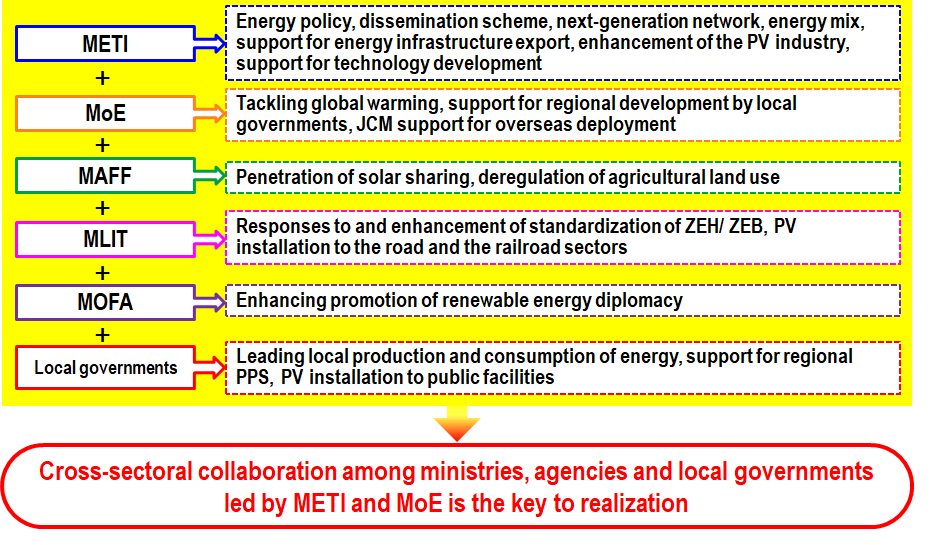 ©RTS Corporation
Figure 1  Direction of compound deployment of policies by related ministries and agencies
Note: MOFA refers to the Ministry of Foreign Affairs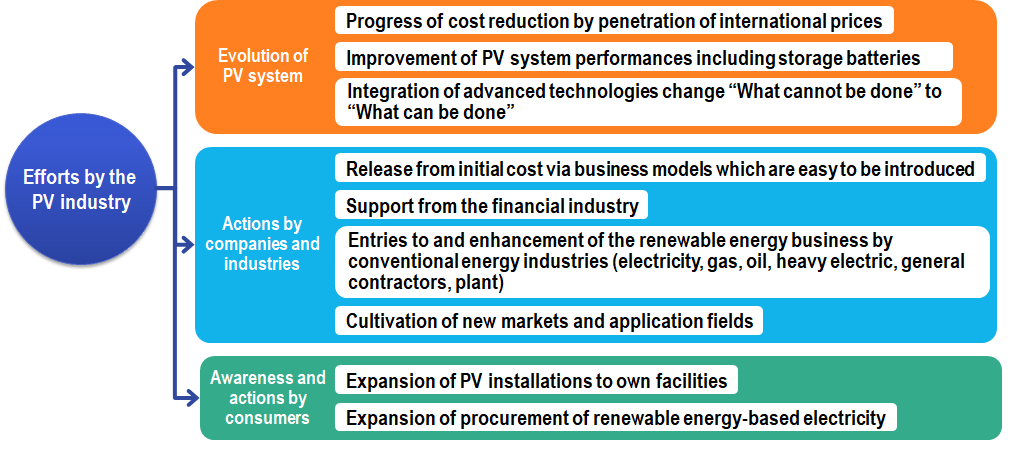 ©RTS Corporation
Figure 2  Direction of deployment from the PV industry